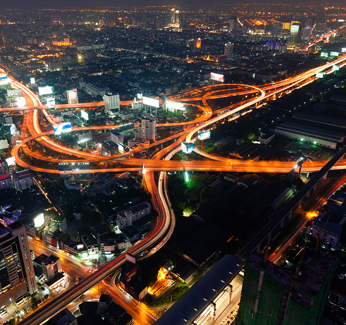 For governments, municipalities and their citizens, the Industrial Internet will help to drive down costs, reduce waste and improve transportation, public safety and service levels to its citizens. Today, citizens are using mobile devices to report potholes and request services. Smart buildings automatically adjust temperature and lighting according to who's in the room, reducing the carbon footprint. In the future, connected devices will inform, predict, re-route and adjust situations before they become problematic.

Future scenarios will include:
Sensor-embedded water pipes, sanitation services, traffic patterns, parking meters and more, that monitor and flag capacity issues and automatically make adjustments in traffic flow, pickup schedules and more.
Improved public safety through more effective and strategic usage of policing resources for crime prevention and emergency responsiveness
Improved safety for fire fighters through wearable sensors that can track their movements, ensuring that everyone gets out of dangerous situations
In 2018, the manufacturing-focused Industry Leadership Council was launched with a core group of innovative strategists representing eight manufacturing organizations who are setting the vision for next generation solutions in the manufacturing industry. These organizations are instrumental in furthering our understanding of industry IoT adoption successes and obstacles, defining and refining implementation best practices and offering expert guidance. We are expanding our Industry Leadership Councils and will be launching additional Councils focused on other industry sectors. Click the button in the left column to learn more and apply to participate.
For more information, please contact [email protected]
We have launched a series of IoT challenges aimed at solving real-world problems. The challenges put architects and solution providers against each other over a period of several months and will be open to organizations and inviduals worldwide.
One of these challenges is the Smart Buildings Challenge, which is designed to give smart building technology suppliers the flexibility to collaborate with their customers to create more targeted, outcome-based solutions.