Intelligent Manufacturing Solutions Forum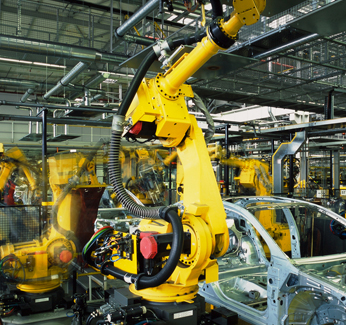 WHEN: September 14, 2018, 9:00am – 12:00pm
WHERE: Hannover Messe USA Solutions Theater, McCormick Place - East Building / Lakeside Center, 2301 S Lake Shore Drive, Chicago, IL 60616
COST: Complimentary. Your HANNOVER MESSE USA and IMTS registration gives you access to the Solutions Theater.
VISIT OUR BOOTH: Booth #121742
*IIC members may obtain free passes to all of these co-located events via a special offer code.
CONTACT: [email protected]
Follow the Event: @HannoverMesseUS

THE INDUSTRIAL INTERNET CONSORTIUM GLOBAL EVENT SERIES in the SOLUTIONS THEATER
The Intelligent Manufacturing Solutions Forum will feature industry leaders presenting technologies that are disrupting the manufacturing industry: The Industrial Internet of Things, Cybersecurity, Automation, Time Sensitive Networking (TSN) and Artificial Intelligence. We are pleased to present this thought-leading forum within Hannover Messe USA which is co-located with the International Manufacturing Technology Show (IMTS). All attendees of Hannover Messe USA and IMTS receive free admission to the Solutions Theater.
All are welcome to our networking reception at 12:15pm in the B&R Automation booth 134111 at IMTS (East Building, Level 3). Our TSN Testbed will be on display in the booth.
AGENDA
Time
Session
9:00am
Welcome: Industrial Internet Consortium Opening Remarks

Dr. Said Tabet, Office of the CTO, Chief Architect for IoT Solutions, & IIC Steering Committee Member, Dell Technologies

9:10
A Digital Transformation Case Study

Christoph Berlin, Principal Group Program Manager, Azure Industrial IoT, Microsoft Corporation
Melissa Ruths, Vice President, Plantweb Solutions and Services, Emerson Automation Solutions

9:45
A Modern Architectural Approach to the Intelligent Mobility of People and Things

Dan Isaacs, Director of Strategic Market Development, Xilinx
Dave Hofert, Chief Marketing Officer and Vice President of Sales, Perrone Robotics, Inc. (PRI)

10:15
Advanced Manufacturing Technologies, Innovations & Testbeds
Moderated by: Calvin Smith, Director & Head of IoT Partner Engineering
11:00

Topic: Leveraging the IOT Ecosystem to Accelerate Value

11:30
Intelligent Transport Systems, Enabling the Adaptive Machine

Sari Germanos, Portfolio and Product Marketing, B&R Automation
Davide Azzolini, Automation Manager, IMA Automation Technology Solutions S.p.A. (Pharma Processing & Packaging deployment)
Andy Bittman, General Manager, IMA Automation Chicago

12:00pm
Networking Reception with B&R Industrial Automation