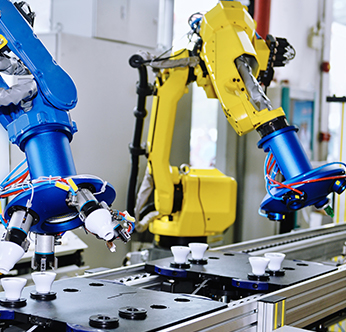 SMART MANUFACTURING FORUM
WHEN: Thursday, May 23rd - 9:00am to 1:00pm
WHERE: Cork, Ireland
Cork Institute of Technology (CIT)
Berkely Centre, Room IT3
WHO: Open to the public
COST: Complimentary
HOSTS:Industrial Internet Consortium, CIT
CONTACT: [email protected]
Follow Us: @IIConsortium

We are pleased to partner with two Research Centres of Science Foundation Ireland (SFI), CONFIRM and I-Form, to present the next event in our Global Event Series. With our host, Cork Institute of Technology, we offer presentations from and interactive panels with thought-leaders in manufacturing and technology research.
Learn about trends, innovations and challenges from experts in Artificial Intelligence, 3D printing, supply chain, trustworthiness and industrial analytics. Discover the confluence of research and technology, identify the risks and threats and discover how the industrial internet revolution translates into value for the manufacturing industry. Join us for panel discussions, presentations, networking, technology demonstrations and lunch. The speakers, topics and full event agenda will be posted here in the coming weeks.
Registration is free but seats are limited, so register today to secure your seat.
Subscribe to our newsletter to stay tuned to all events and announcements.

Preliminary Agenda
time
presentation
presenter
9:00
Opening Remarks

Dr. Richard Soley, Executive Director, Industrial Internet Consortium
Dr. Bill O'Leary, General Manager, Confirm Research Centre

Deirdre Clayton, Centre Manager at I-Form Advanced Manufacturing Research Centre

9:10
Introduction to the Global Event Series

Wael William Diab, Senior Director, Huawei Technologies, Co-chair, IIC GES Task Group, Secretary, IIC Steering Committee
Kathy Walsh, VP of Marketing, Industrial Internet Consortium

9:20

Distributed Technology for Smart Manufacturing: Synergy & Scalability

Vincent Wang, CIO, Wanxiang Group

9:40
The Adoption of Additive Manufacturing in Industry - Opportunities & Challenges

Dr. Triona Kennedy, Manager, Business & Process Development, Stryker Advanced Operations

9:50
Open Partnerships for Successful Smart Manufacturing Solutions

Jeff McCann, Global IoT Lab Director, Dell EMC

10:00
Panel: Digital Solutions in Manufacturing: Innovations and Value from Industry and Research Perspectives
Moderator: Dr. Bill O'Leary, General Manager, Confirm Research Centre

John Breslin, Senior Lecturer in Electronic Engineering, NUIG; Principal Investigator, Confirm Research Centre
Dr. Ken Bruton, Cork Institute of Technology, Department of Mechanical, Biomedical & Manufacturing Engineering
Prof. Andrew Parnell, Hamilton Institute at Maynooth University and Funded Investigator in the I-Form Advanced Manufacturing Centre
Roger Richardson, Co-Founder and Commercial Director, Corlina

11:00
Break & Technology Demos
11:30
Workforce 4.0

Prof. John Barrett, Cork Institute of Technology, Nimbus Research Centre

11:50
Panel: Trustworthiness Challenges in Smart Factory
Moderator: Robert Martin, Sr. Secure SW & Technology Principal Engineer, MITRE

Sandy Carielli, Director of Security Technologies, Entrust Datacard
Joan Mulvihill, Digitalisation Lead, Siemens
Dr. Thomas Newe, University of Limerick, Department of Electronic & Computer Engineering; Funded Investigator, Confirm Research Centre
Dr. Donna O'Shea, Cork Institute of Technology, Department of Computer Science

12:50
Closing Comments

Dr. Richard Soley
Patrick Reidy, Business Development Manager, Confirm Research Centre
John Oliver, Business Development Manager at I-Form Advanced Manufacturing Research Centre

12:55
Lunch & Technology Demos